After 6 years living at 1500m in the wilds of New Zealand's mountains, Shrek the Hermit Sheep has come home only to be robbed of his 27 kg fleece he worked so hard to grow.

If you haven't heard, in the land where sheep outnumber people by 10 to 1, it's big news when a fugitive sheep has been caught. Named after the patron saint of big ugly things, Shrek the merino sheep was shorn live on national television. How embarassing for poor Shrek. He could hardly stand after losing 27kg worth of wool in under 20 minutes!
What's great is that the owner is auctioning Shrek's wool for a kids' charity. Although unless you know how to spin it into yarn, I don't know what you'd do with it. And they're auctioning some one-of-a-kind red jackets. Sir Edmund Hillary and the director of Shrek 2, a kiwi, have been giving the same jackets.
Hmm…so Shrek the sheep was found and shorn less than a month before the release of Shrek 2. A publicity stunt? A way to tie Shrek to New Zealand's LOTR film success. My conspiracy senses are tingling. 😉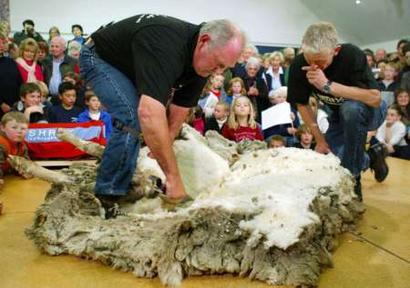 Shrek getting shorn. Don't worry, he's not dead.